Out of the blue, the blatantly talented Teofilo Chantre's new album confirms his credentials as a great French-language singer. Over the last fifteen years, the Cape Verdean songwriter has won particular acclaim with his classics performed by Cesaria Evora, along with a solid reputation as one of the key artisans in the triumph of Cape Verdean music worldwide.
His songwriting talents aside, Teofilo Chantre has followed a much-appreciated solo career since 1993 and the album "Terra & Cretcheu", independent of fashion and other transient trends in the performing arts. Rooted in saudade - an Atlantic emotion combining regret, desire and sorrow - Teofilo Chantre's music tells of how he left his native island of São Vicente for Europe at the age of fourteen and alludes to the many return trips that followed. Chantre has been a musician for thirty years and has achieved an impressive maturity as both a singer and writer of Cape Verdean classics.
"meStissage", the sixth studio album in a series teeming with references to travel and homeland, is certainly his widest-ranging, most accomplished record to date. A jewel of acoustic sketches and Atlantic melancholy, its thirteen songs stray from the beaten path and set out in search of a generous musical fusion. The first song on the album, Tu verrais (You'd see), is fashioned with true, delicate craftsmanship. Singing in French, Teofilo brings us a paean to the good life, reminiscent of Cape Verdean morabeza and underlined by the bitter-sweet accordion of Jacky Fourniret who has been playing with Teofilo since the early days.
Marc Estève, already present on the previous album, "Viaja", has co-written five tracks of this new record. The startling Entre-temps (Meanwhile) is a lucid mirror held up to a society where digital technology is relentlessly replacing honest human relationships. The string and piano arrangements on Un Monde Honorable (An Honourable World) stir memories of the late French artist Claude Nougaro, while enhancing Teofilo's naturally flowing, sometimes intimate but always heartfelt vocals, achieving a moving harmony of words and music.
Bernard Lavilliers met Teofilo during the writing of Elle Chante (She Sings), the duet he performed with Cesaria Evora, and is reunited with the Cape Verdean on Oli'Me Ma Bô, with a touching verse on the hardships of exile that again expresses a sublime saudade. Teofilo excels in introspective ballads, including the exquisitely self-effacing Alma Morna, Allem Disso and Lua Desencantada. Combined with largely acoustic backing, his innate sense of melody always rings true, suggesting the restrained saudade of the Mindelo teen who left his island to go into exile across the Atlantic.
All roads meet and part in the Restau de l'Exil (Exile Restaurant), a Portuguese-speaking travellers' inn where emotions run deep and real. Teofilo's music never cheats. He remains true to his past, convictions and feelings. Melancholy vanishes as the first notes sound: "Nostalgia, sleep peacefully, everyone's going to dance". Us too, all through this "meStissage" brimming with vitality.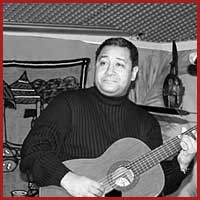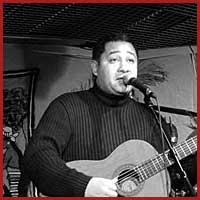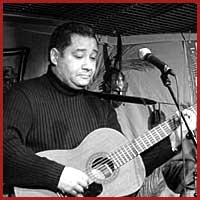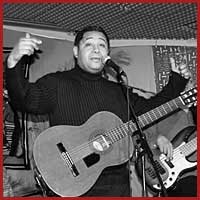 Fotos Roswitha Guillemin